Ok guys this is a fun thread for a laugh, here is how it works, I start off witha story about inki, totally fabricated, anyone wishing to add to the next post feel free to do so, try to keep it clean please and lets see how it goes.
You may wonder why I use inki, its becuase he is game for a laugh and he actually enjoys the false stories about him, so here goes....
One day Inki decided to leave his home island to explore the huge wide world, as he was packing his mother said to him "inki my darling son, don't buy a plane ticket, you have no need to" to which he replied, "but mother dear, i must We live on an island and I don't want to take a fishing boat all the way to the United Kingdom, the land of hope and glory where I will become mega rich as the sexiest male alive".
His mother put her arms around his shoulders and lead him to the cupboard under the stairs, "here som, in there is a trunk, please pull it out into the day light". Inki looks at her in shock, "BUT MOTHER" he shouted "don't you now know who I am? i am the most sexiest male alive, i can't be pulling out dusty old heavy trunks, besides my huge ass won't get me through the door, so you will have to get my sister to do it"
"I understand my little one" she replied as she tugged on the chest until it was in view.
Inki stood over the chest with anticipation of what it held, his mother karate chopped off the lock and slowly lifted the lid, it portrayed a shiney green glow. in it was a green suit "not any old green suit my son, but a magic green suit" she explained.
"whats magic about it mother dear?" he asked
"This suit has been in our family for generations it holds a power of making you look slim and one other thing which you will have to try and see for yourself", so intex stepped into the magic green suit as soon as he did, he felt his feet lift of the ground and carry him out the window "I CAN FLY!!!" he screamed with excitement "who needs to pay dumb amounts of money for a plane ticket whoohooooo"...he turned round and looked down at his mother and said "thank you mother, i shall return" his mother replied, "take care my son, don't hurry back" secretly thanking god he finally left home and she wouldn't have to wash so many dished a day any more or sponge bath him because he couldn't fit in the shower.
Intex waves and blew a kiss to his precious mother who had took care of him all his years, then off he flew on his travels...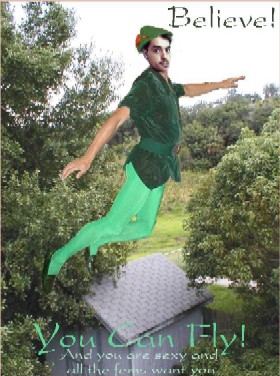 <br><br>Post edited by: Nidi, at: 2007/07/05 23:20